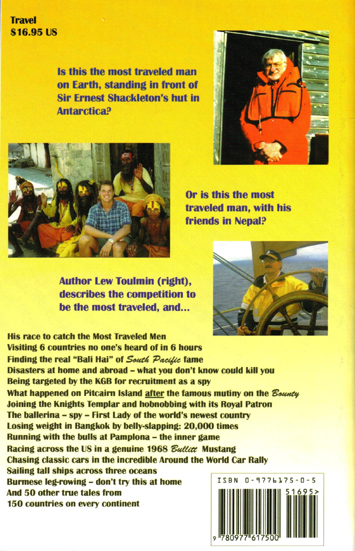 Note: If you are ordering The Most Traveled Man on Earth at your local bookstore, the ISBN number is 0977617505.
Lew's exciting adventures around the globe are also described in the book, including:
Finding the real "Bali Hai" from the book, play and movie South Pacific
Being head-hunted by the KGB
Losing weight in Bangkok by having his belly slapped -- 25,000 times!
Racing across the US in a genuine 1968 Steve McQueen movie Mustang in the 4,000-mile Great Race
Joining the real Knights Templar and visiting the Order's Royal Sponsor in one of her seven castles
Finding the truth behind numerous movies set around the world, including The Da Vinci Code, Out of Africa, Topkapi, Amistad, The Bridge on the River Kwai, Bullitt, Mutiny on the Bounty, Robinson Crusoe, Rapa Nui (Easter Island), etc.
And 45 other amazing but true stories from every continent!